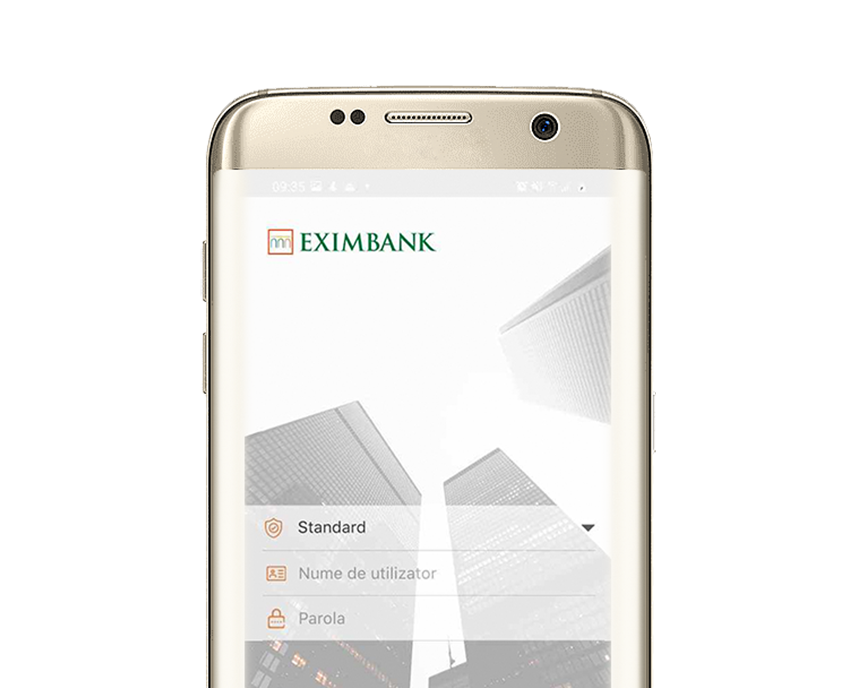 Download the app and stay connected anytime, anywhere.
Your bank on your own mobile phone
MOBILE BANKING
În atenția clienților: lucrări de mentenanță 16.09.2022
În legătură cu efectuarea lucrărilor de mentenanța , în data de 16 Septembrie 2022, în intervalul de timp 00:00-05:00, următoarele servicii ar putea întâmpina rețineri...
More
Your future is in YOUR hands!
Let your savings multiply with EXIMBANK deposits
FIND MORE!
A truly privileged lifestyle
VISA SIGNATURE premium card
FIND MORE!
WITH 2 OR 3 ROOMS?
Whatever you choose, with FAMIGLIA mortgage loan you get up to 5 years of stability
FIND MORE!
Currency converter
Enter the currency amount
Updated:
2022.10.07
The exchange rate was updated on 2022.10.07
| The name of the currency | Purchase | Sale | The official exchange rates of the NBM |
| --- | --- | --- | --- |
| Dolar S.U.A. (USD) | 19.3500 | 19.5500 | 19.4417 |
| Euro (EUR) | 18.9200 | 19.2200 | 19.2133 |
| Leu romanesc (RON) | 3.7800 | 3.9600 | 3.8917 |

| The name of the currency | Purchase | Sale | The official exchange rates of the NBM |
| --- | --- | --- | --- |
| Dolar S.U.A. (USD) | 19.3200 | 19.5200 | 19.4417 |
| Euro (EUR) | 18.9000 | 19.2500 | 19.2133 |