EXIMBANK launches an ablosute premiere - Visa SIGNATURE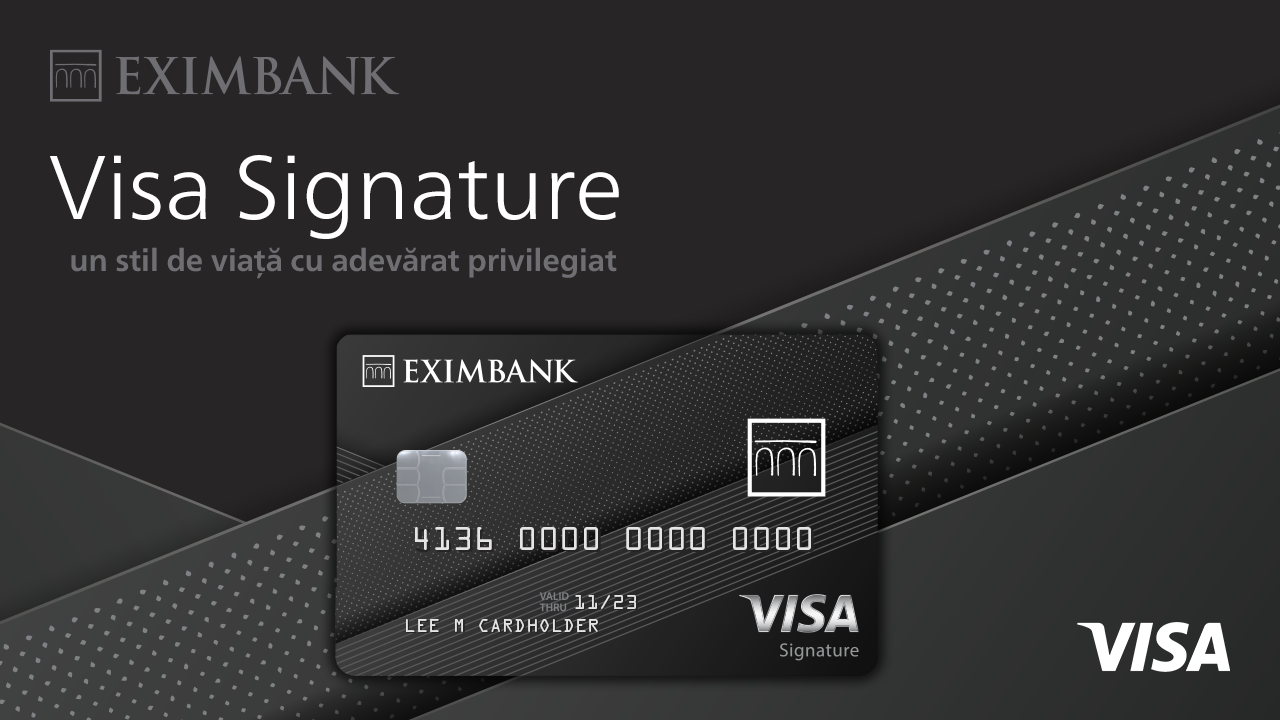 EXIMBANK, part of the Intesa Sanpaolo Group, comes with an absolute premiere for the local market - Visa SIGNATURE card - a product from the Premium category, which offers a wide range of special services. The launch of the unique product took place online with among the bank's partner VISA and served as an opportunity for the public to discover the impressive benefits offered to the holders of the new Visa SIGNATURE card from EXIMBANK.
Marco Santini, General Manager and CEO of EXIMBANK: "Despite the challenging moment marked by the COVID-19 pandemic, EXIMBANK is an active market force and, while recording impressive commercial results and increasing its market share in many market segments, is launching new initiatives.
At EXIMBANK our success is not only measured by addressing our clients' financial goals but also by building long term relationships and going above and beyond to cater for our customers' life aspirations and goals.
We are pleased to launch in parterchip with VISA an absolutely new and unique product for the market of the Republic of Moldova, designed to meet the need of customers to constantly benefit from premium privileges and rewards. This card will offer holders great experiences and a variety of niche offers to match their lifestyle."
Insured travel, international healthcare and consulting, global customer support, global privileges such as access to LoungeKey rooms, and many other special offers are in the arsenal of benefits of Visa SIGNATURE from EXIMBANK cardholders. Another important prerogative is the 24/7 Concierge service, which guarantees clients non-stop personal counseling anywhere in the world. Executing daily tasks or even overcoming imposing obstacles becomes the priority of the team of dedicated professionals from the Concierge 24/7 service thanks to the Visa SIGNATURE card.
The owners of the product in the Premium category also benefit from advantages such as SMS Info and Internet Banking services "EXIMBANK Online" absolutely free, personal advisor and priority service within the branches.
The new Visa SIGNATURE card from EXIMBANK with an impressive design - elegant black easily accompanied by the elements of a noble silver - has incorporated the benefits of all cards into one. Designed especially for those who appreciate time, often travel for work or leisure, prefer high quality services that respond quickly and accurately to thier needs, take care of their families, always make plans for the future and choose a TRUE PRIVILEGED LIFESTYLE.
Visa SIGNATURE card can be easily requested online, accessing the webpage https://eximbank.md/ro/card/visa-signature, and soon your bank consultant will contact you and schedule a visit to the branch depending on your availability. And to the first three clients who will become holders of the new card, EXIMBANK will offer as a gift a bottle of sparkling wine from the partner Casa Rinaldi.
EXIMBANK represents a universal commercial bank, offering quality services for the corporate segment, which operates in all branches of the national economy throughout the country, and for the retail segments.
Currently, in addition to the traditional banking services package (cash and settlement operations, loans, opening and servicing deposit accounts, securities transactions), EXIMBANK offers high technology banking services and products, such as bank card transactions ("MasterCard Inc." and "Visa Inc.") and products based on IP technologies (Internet-banking "EXIMBANK-ONLINE", online access to card accounts).
On March 13 of the year 2018 EXIMBANK officially became part of Intesa Sanpaolo Group, after the completion of the acquisition of 100% of EXIMBANK's share capital by Intesa Sanpaolo.
The Intesa Sanpaolo Group is one of the top banking groups in Europe and is committed to supporting the economy in the countries in which it operates. In Italy, Intesa Sanpaolo is the leader in all business areas (retail, corporate, and wealth management) and offers its services to 11.8 million customers through a network of approximately 3,700 branches well distributed throughout the country with market shares no lower than 12% in most Italian regions. Abroad, Intesa Sanpaolo has a strategic international presence, with approximately 1,000 branches and 7.2 million customers, comprising subsidiaries operating in commercial banking in 12 countries in Central Eastern Europe and Middle Eastern and North African areas and an international network of specialists in support of corporate customers across 25 countries, in particular in the Middle East and North Africa and in those areas where Italian companies are most active, such as the United States, Brazil, Russia, India and China.
27.10.2020